Welcome to the Sovereign Stones Vault.
The Vault houses a selection of the finest precious and semi precious gemstones hand picked by our gemologist.
These exceptional stones can be collected as investment pieces or crafted into a setting of your choice and design. Each stone will only be available for a limited time before being passed in to ensure a constant array of options.
This service is highly personalised and our customers will have the opportunity to converse directly with our gemologist either by email, message or a private consultation.
'Every gem stone has an individual story, each one hundreds or even thousands of years in the making'
I just wanted to say Thank you! The Journey Ring is stunning. I have never had an 'unboxing' experience that continued to surprise as each new layer was revealed. I am already planning to treat myself to another insert .... maybe yellow sapphire for Christmas. Thank you Sian for your care and creativity.
It takes a lot of trust to engage the services of a jeweller via email and phone to design an engagement ring. From initial concept incl budget discussions, stone sourcing, design process and through to the final product, my fiance was kept informed and reassured every step of the way until the outstanding ring arrived in its exquisite packaging. Thank You so much. Highly Recommended.
I just opened my package and I love it. Thank you so much. The ring is gorgeous and even the packaging and everything is so amazing. Thank you so much for such a wonderful experience
I recently started searching for a Ring for my wife of 25 years as a anniversary present . Phil and the team at Sovereign stones went above and beyond from the very onset to assist me in the design, and provide great advise on what quality of stone and gold to add to the piece to make it precious , but also affordable to me . I made contact with pill and his team around 5 weeks prior to my anniversary date, The team at Sovereign stones assisted me on multiply occasions to get the best design outcome and a affordable price
The ring I received is absolutely beautiful with such vibrant and colourful stones, and the customer service was sensational. I'd definitely recommend to anyone considering a purchase.
Trust was a big thing for me but as soon as I heard back from Sian the Founder, I knew I'd made a great decision. I wanted a special and unique ring to propose to my girlfriend and Sovereign Stones helped me through the process with expert and timely assistance. Their approach was brilliant. Highly recommend.
I can't put into words how much I love my engagement ring. It's beyond what I envisaged & imagined - I love its sparkle and warmth. My fiance worked with the team at Sovereign Stones to create an engagement ring which I knew nothing about, they took so much care and made a process that has the potential to be a nightmare, a fun one.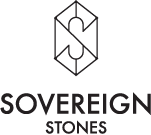 Join the Sovereign Stones Family
for exclusive previews