With our Journey Collection, you have the choice between Your Grace and The Three Graces.
Your Grace gives you a single magnificent piece of fine jewelry with the metal and gemstone of your choice. For the precious stones, you can choose between sapphires, rubies, or tsavorites – all brilliantly cut and selected by our personal gemologist. Of course, you always have the option of selecting another stone to customise your ring in the future. 
The Three Graces gives you your choice of metal along with all three precious stone choices – sapphire, ruby, and tsavorite. This immediately gives you access to the full range of customisation, ensuring you can always coordinate your outfit properly with your fine jewelry.
With our The Rainbow Rainbow Collection, you have access to a range of glorious sapphire rings, bangles and earrings – all as vivid and colourful as you are. Our fine jewelry reflects your lifestyle and your dreams, and perfectly complements spring florals, bold geometric prints, and potent paisleys. The Rainbow Collection™ delivers that radiant pop of colour to any classic monochrome palette, showcasing the beauty of Ceylon's exquisite coloured sapphires who in their natural glory manage to encapsulate every hue of the colour wheel.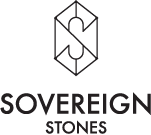 Join the Sovereign Stones Family
for exclusive previews