Journey Collection - The Three Graces
With our Journey Collection, you have the choice between Your Grace and The Three Graces. Your Grace gives you a single magnificent piece of fine jewellery, whether it be a pendant, ring, a set of earrings, or a bangle with the metal and gemstone of your choice. For the precious stones, you can choose between sapphires, rubies, or tsavorites – all brilliantly cut and selected by our personal gemologist. Of course, you always have the option of selecting another stone to customise your ring in the future. 
The Three Graces gives you your choice of metal along with all three precious stone choices – sapphire, ruby, and tsavorite. This immediately gives you access to the full range of customisation, ensuring you can always coordinate your outfit properly with your fine jewellery. 
When it comes to your piece's precious metal, you can choose between:
Solid Silver
Solid Platinum
18K Yellow Gold
18K White Gold
18K Rose Gold
Solid Silver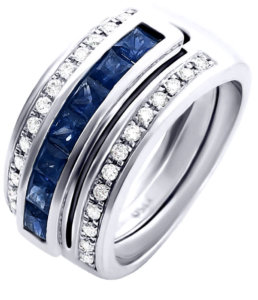 Solid Platinum
18K Yellow Gold
18K White Gold
18K Rose Gold