Sovereign Stones is proud to introduce 'The Rainbow – The Rainbow Collection'. This collection features glorious sapphire rings as vivid and colourful as you, your lifestyle, and your dreams. Sourced from Ratnapura in Ceylon, our The Rainbow rings are the perfect adornment to complement spring florals, bold geometric prints and potent paisleys; which are ubiquitous in contemporary fashion. The Rainbow Collection™ delivers a radiant pop of colour to any classic monochrome palette, adding a refreshing touch to your outfit. The Rainbow Collection showcases the beauty of Ceylon's exquisite coloured sapphires who, in their natural beauty, manage to encapsulate every hue of the colour wheel.
The Rainbow Collection™ - Earrings
The Rainbow Collection™'s earrings are a stunning statement piece that will complement and enhance any ensemble. Composed of exquisite 2.90 carat princess cut sapphires with every hue of the rainbow reflected in their depths, our The Rainbow earrings are set in 18K yellow, white or rose gold. The comfortable stud closure also makes for easy and secure wearing.
Each sapphire is hand-selected by our personal gemologist and lapidary. The stones are custom-crafted by our master artisans, to ensure the highest standards of quality, while maintaining ethical procurement and adhering to the strictest standards of corporate responsibility.
Argor-Heraeus gold is exclusively used in our pieces, and we guarantee ethical standards by tracing each item to its origin. 
The Rainbow Hoop earrings are a modern take on a traditional jewelry standard. Crafted in 18K white, yellow or rose gold; the earrings are set with brilliant cut, hand- selected coloured sapphires from the heart of Ceylon. The 'huggie' closure on the hoops ensure a snug, comfortable, and secure fit. These stylish classics also work with other pieces from The Rainbow Collection™, providing seamless layering and integration.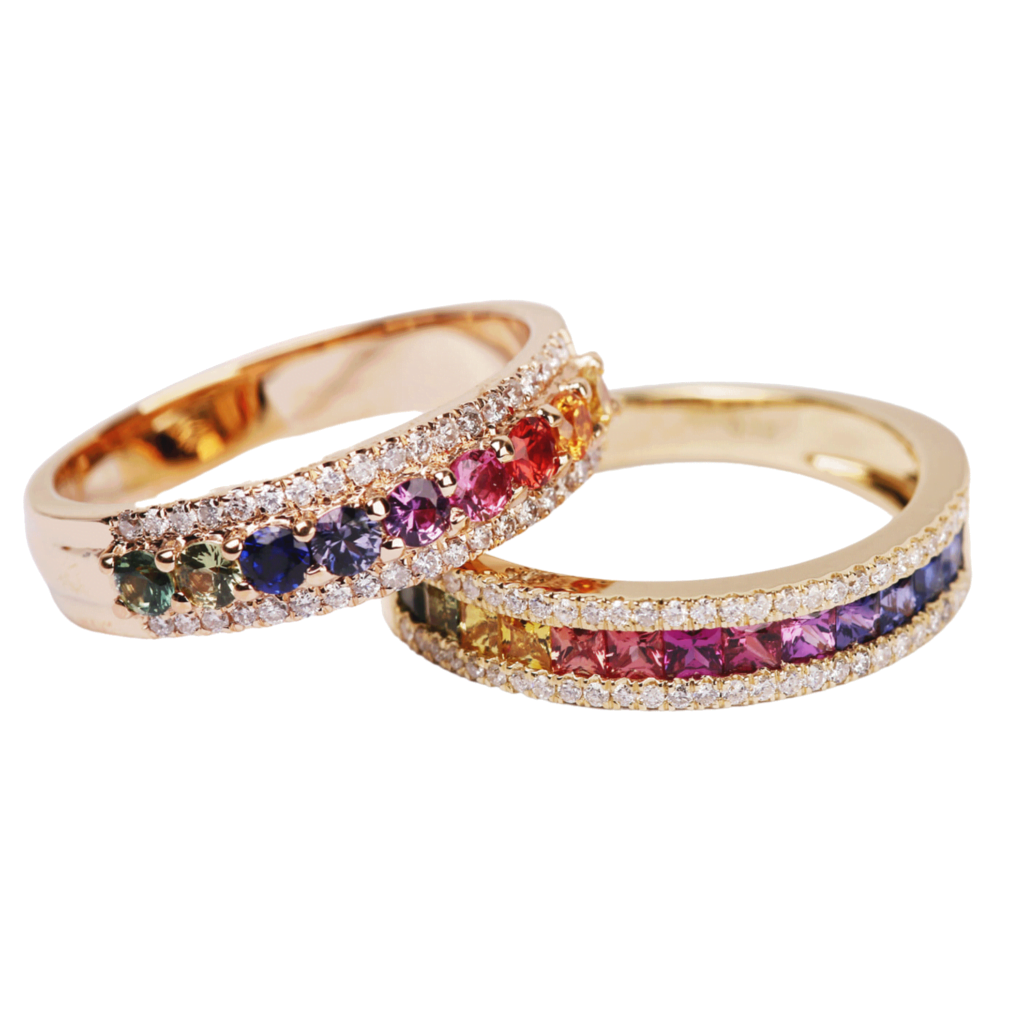 A stunning modern classic with a colourful shimmer, the The Rainbow 'Channel Set Eternity Ring' is a fanciful expression of the wearer's spirit and style. Our hand-selected coloured sapphires hail from Ratnapura, the 'Gem City' of Ceylon. These exquisite precious stones are masterfully cut by Ceylon's lapidaries to offer the greatest sparkle and clarity. Our eternity ring is channel-set in 18K white, yellow or rose gold and includes brilliant round-cut stones (or other cuts depending on your desired aesthetic), and engraved with the iconic Sovereign Stones symbol. Grant yourself eternal radiance with this colourful expression of style and love.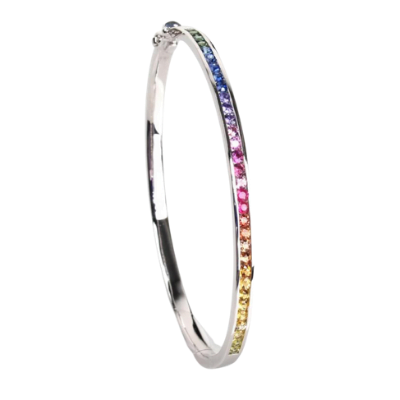 This decadent piece will bring any outfit to life, displaying the full palette of the colour wheel on your wrist. Exquisite, hand-selected coloured sapphires from the Gem City of Ceylon are set in your choice of 18K white, yellow, rose gold, or platinum. The bangle is solid, weighing 11.3 grams and studded with 33 precious stones. The bangle is also engraved with the iconic Sovereign Stones symbol, which signifies its authenticity. This piece can serve as a daily expression of style or be held as a treasure to be reserved for times of celebration.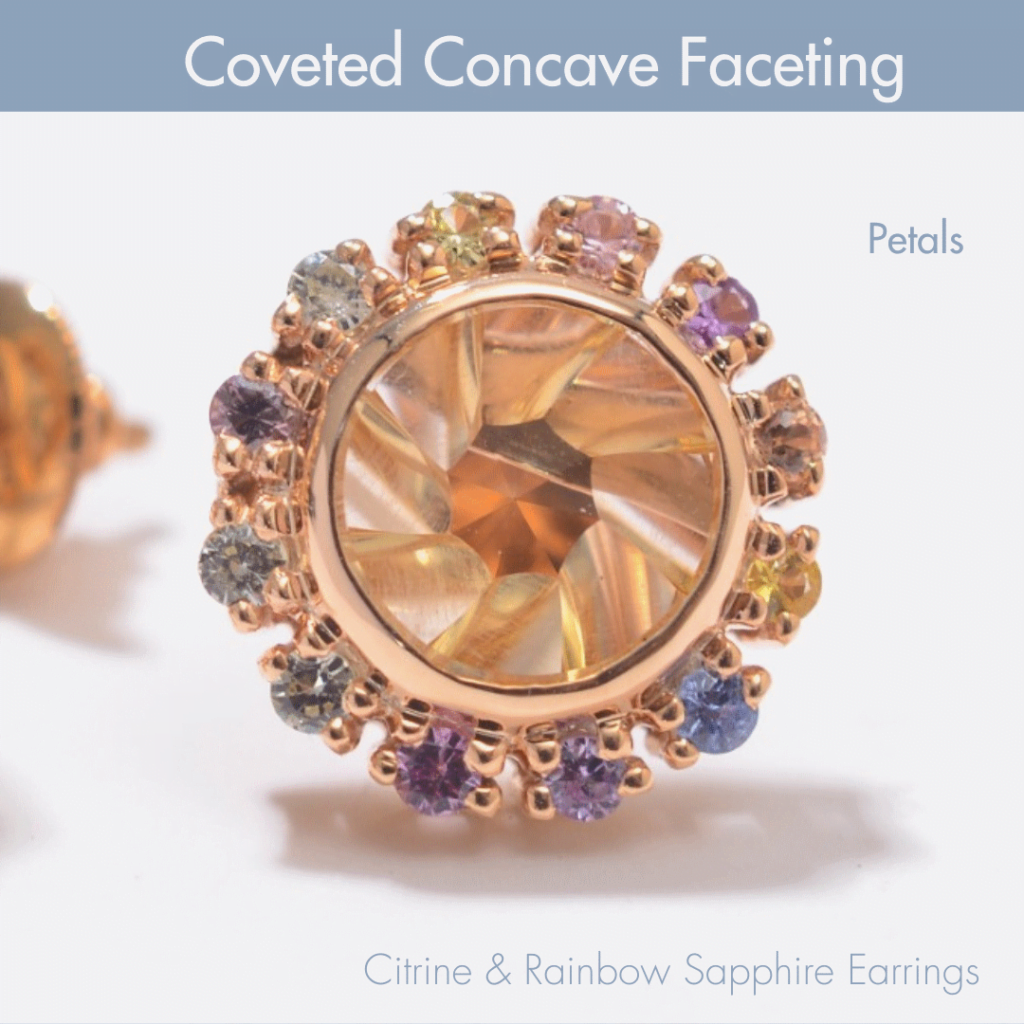 Citrine & Sapphire Earrings
Petals 'The Rainbow Collection'
The citrine gemstones have pavilion cuts curved inwards across the gemstone to scatter more light into the interior resulting in a more brilliant gem than traditional faceting methods.
With extralight being distributed across the Citrine, it creates an inner glow and enhanced body colour.
The Sapphire & Citrine earrings are available in 18k Gold, 9K Gold and Sterling Silver at sovereignstones.com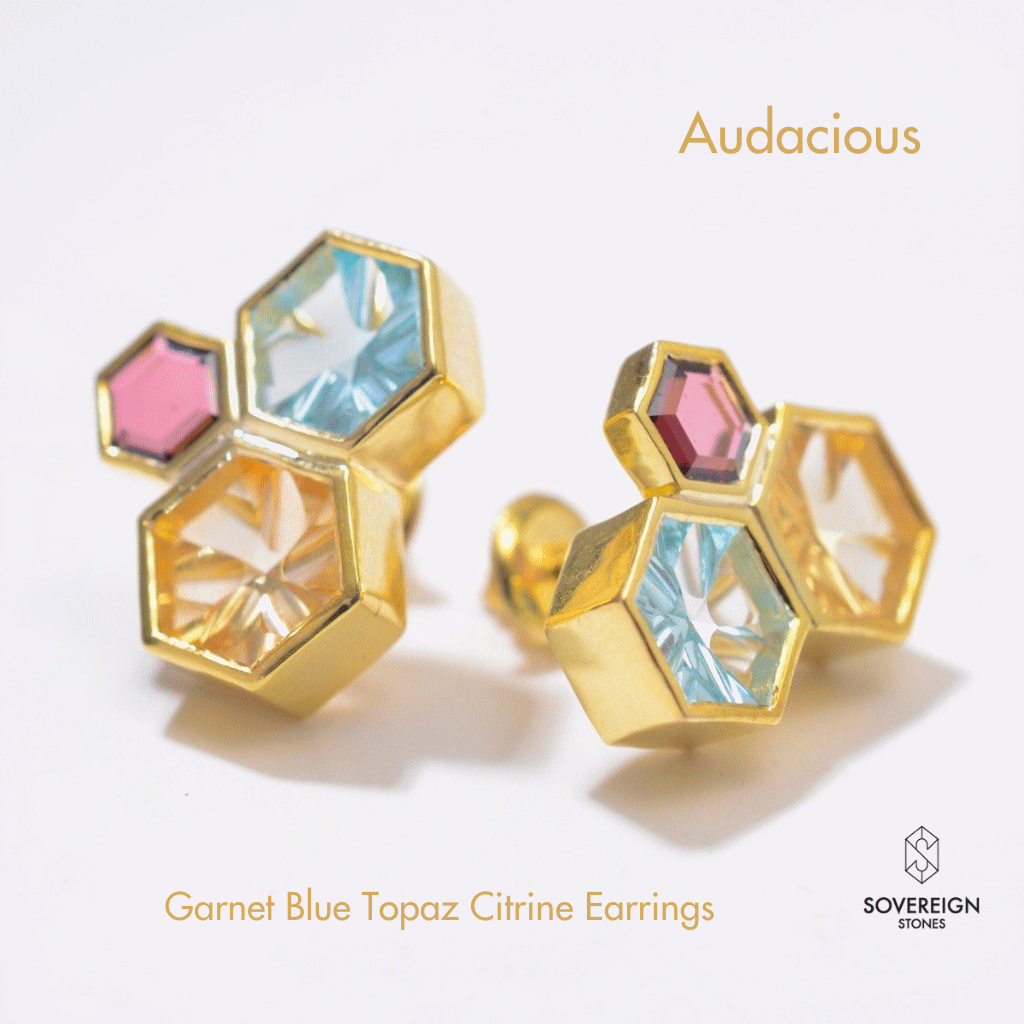 Garnet Blue Topaz Citrine Earrings
Capturing the Art Deco style of the 'Roaring Twenties' that was inspired by cubism and an era of social and industrial progress; quick step dancing, the empowerment of women, hair bobs, short sleeved garments, bracelets worn on both hands…
'Audacious' captures the dramatic combinations of material, geometric shapes, colourful precious and semi precious gemstones.
This piece comprises hexagonal shapes holding 7x7mm Citrines, 6x 6.5 mm Blue Topaz and 4.5×4.5mm Garnets totaling 3.95 carat weight. Available in 18k Gold, 9k Gold and Sterling Silver.
I just wanted to say Thank you! The Journey Ring is stunning. I have never had an 'unboxing' experience that continued to surprise as each new layer was revealed. I am already planning to treat myself to another insert .... maybe yellow sapphire for Christmas. Thank you Sian for your care and creativity.
It takes a lot of trust to engage the services of a jeweller via email and phone to design an engagement ring. From initial concept incl budget discussions, stone sourcing, design process and through to the final product, my fiance was kept informed and reassured every step of the way until the outstanding ring arrived in its exquisite packaging. Thank You so much. Highly Recommended.
I just opened my package and I love it. Thank you so much. The ring is gorgeous and even the packaging and everything is so amazing. Thank you so much for such a wonderful experience
I recently started searching for a Ring for my wife of 25 years as a anniversary present . Phil and the team at Sovereign stones went above and beyond from the very onset to assist me in the design, and provide great advise on what quality of stone and gold to add to the piece to make it precious , but also affordable to me . I made contact with pill and his team around 5 weeks prior to my anniversary date, The team at Sovereign stones assisted me on multiply occasions to get the best design outcome and a affordable price
The ring I received is absolutely beautiful with such vibrant and colourful stones, and the customer service was sensational. I'd definitely recommend to anyone considering a purchase.
Trust was a big thing for me but as soon as I heard back from Sian the Founder, I knew I'd made a great decision. I wanted a special and unique ring to propose to my girlfriend and Sovereign Stones helped me through the process with expert and timely assistance. Their approach was brilliant. Highly recommend.
I can't put into words how much I love my engagement ring. It's beyond what I envisaged & imagined - I love its sparkle and warmth. My fiance worked with the team at Sovereign Stones to create an engagement ring which I knew nothing about, they took so much care and made a process that has the potential to be a nightmare, a fun one.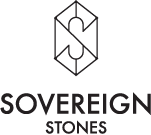 Join the Sovereign Stones Family
for exclusive previews