Discover an array of uniquely beautiful pendants for sale
Our pendants feature streamlined designs and offer a sleek and elegant appeal, perfect to wear as a standalone item or to layer with other designs. With our innovative interchangeable row clips, you can now match your pendant necklace to any outfit. Simply choose your desired gemstone row and insert to achieve your desired look. You can swap out the row for a different stone at any time. 
Taking pride in a heritage of quality
Buying our pendants online doesn't only mean treating yourself to a breathtakingly beautiful pendant; it's also a unique opportunity to own a piece of Sri Lanka's rich gemstone tradition. Every stone sourced is deeply connected to this cultural heritage, making your pendant more than just a piece of jewellery — it's a story, a tradition and a personal testament to the beauty and vibrancy of Sri Lanka's gemstone industry.
The Journey Collection allows the contemporary discerning woman to celebrate and accentuate each aspect of her life. A Journey Collection pendant offers each individual piece the versatility to encapsulate all of the wearer's personal attributes; exemplifying the unique qualities of the extraordinary woman who adds it to her outfit.
Our pendants are designed with strength and style in mind, presenting a sleek and elegant look to complement any outfit. The flagship Journey pendant is crafted with solid 18 karat gold or platinum, while the 7-gram shank is brought to life with two rows of the finest VS brilliant-cut round diamonds. Our innovative design allows for the gem inserts to be interchanged -a feature which has never been seen before in the luxury jewellery space. Each 3.5 gram insert boasts 1.5k of hand-selected and calibrated set rubies, tsavorites, or sapphires. The result is a luxury product that combines form and function – the world's finest double act. 
With our Journey Collection, you have the choice between Your Grace and The Three Graces:
Your Grace gives you a single magnificent pendant with the metal and gemstone of your choice. For the precious stones, you can choose between sapphires, rubies, or tsavorites – all brilliantly cut and curated by our personal gemologist. Of course, you always have the option of selecting another gem row to customise your ring further in the future. 
The Three Graces, on the other hand, offers your choice of metal along with all three precious stone options – sapphire, ruby, and tsavorite. This immediately gives you access to the full range of customisation by providing you with each of the three gemstone rows – The Three Graces. This enables you to always properly coordinate your outfit with your pendant necklace.
Ethically Sourced From Master Artisans
All of our precious stones are ethically sourced from Sri Lanka, where we have partnered with master artisans who have generations' worth of lapidary expertise. Sri Lankan gemstone cutters are some of the world's most experienced, combining hundreds of years of expertise with 21st-century technologies. Sri Lankan gem cutters are recognized for extracting the maximum face-up color while retaining carat weight.
Begin your Sovereign Stones journey today with our pendants for sale
Indulge in the world of Sovereign Stones and buy pendants online that resonate with your style and personal story. Experience the magic of our enchanting collection, and let our exquisitely crafted pieces spark your imagination. 
Choose from our carefully selected range of sapphires, rubies and tsavorites to go with your desired casing. Each pendant is engraved with the iconic Sovereign Stones symbol, ensuring the authenticity and authority of your piece.
With our extensive selection of ethically sourced pendants for sale, you're bound to find the piece that truly symbolises your unique spirit.
Buy pendants online today and illuminate your style with Sovereign Stones.  
Our pendants feature a curated range of sapphires, rubies, and tsavorites — all brilliantly cut and selected by our gemologist. The iconic Sovereign Stones symbol ensures the authenticity and authority of your piece.
Of course! Our bespoke service allows you to select every aspect, stone and colour of your pendant, to create a piece that perfectly captures your style and personality. Our skilled artists work closely with you to produce the pendant of your dreams.
We provide a 14-day money-back guarantee for all online purchases. To request a refund, customers may email co[email protected] within 14 days of the delivery date.
We will contact you to arrange the collection and transportation of the pieces. Items must be returned in their original condition, alongside the original gift box and jewellery box.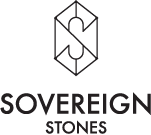 Join the Sovereign Stones Family
for exclusive previews