How to choose the perfect bangle or bracelet
Bangles have long been cherished accessories, celebrated for their ability to add a touch of elegance to any outfit. Their timeless appeal lies in their simplicity and versatility. Whether you're dressing up for a formal event or adding a finishing touch to your everyday ensemble, a bangle or bracelet can be the perfect statement piece.
For those looking to buy bangles online in Australia, Sovereign Stones offers a diverse range. The beauty of these adornments is that they can be both subtle and striking, depending on your choice. From slender, delicate designs to bold, chunky styles, there's a bangle to suit every taste and occasion.
With the variety of materials and gemstones available, each bangle and bracelet from Sovereign Stones carries its own unique sentiment and meaning, transforming them into cherished keepsakes beyond their accessory value.
When buying jewellery like bangles & bracelets, it would be best to browse first to identify various options. This will help you understand the many colours, styles, precious metals and precious stones we offer.
You should also consider how frequently you intend to wear your new bangle or bracelet. If you plan on wearing it daily, invest in a more versatile piece that complements most of your wardrobe or the main colours you gravitate towards. Finally, make sure you size your wrist before placing your order. Though we have a 14-day return policy, buying the proper wrist size will save you the hassle of returning or replacing your order.
Distinct collections by Sovereign Stones
Sovereign Stones, a premier destination for buying bangles online, presents two distinct collections, each capturing the essence of the modern woman's spirit.
The Journey Collection celebrates the contemporary woman's diverse roles and attributes. Each piece seamlessly combines strength with sophistication. The collection features blue sapphires, rubies and tsavorites, with the latter chosen for its clarity over traditional emeralds.
The Rainbow Collection mirrors the vibrancy of a woman's life. While it shares foundational principles with the Journey Collection, it offers a unique, colourful twist. The gemstone choices remain consistent, ensuring each piece is both radiant and durable.
Together, these collections provide a curated selection, catering to every woman's individual style and journey.
The art of layering bangles
Layering with Sovereign Stones bangles offers endless possibilities to showcase your artistic edge. Our collection, rich with varied designs, ensures you have the perfect pieces to curate your desired look.
Begin with a foundational Sovereign Stones bangle that exudes simplicity. Next, introduce bangles adorned with our ethically sourced Sri Lankan gemstones. The vibrant colours and unique patterns of these gemstones provide depth and contrast to your stack.
It's essential to find the right balance. Mix slender and bold bangles to create visual interest without overwhelming the eye. The versatility of our collections ensures that even contrasting pieces can be paired to achieve a cohesive look.
When you choose to buy bangles online from Sovereign Stones, you're not just purchasing a piece of jewellery; you're investing in versatile adornments that offer multiple ways to wear them, giving you more value for your money.
Layering with Sovereign Stones offers a canvas for self-expression. Through each bangle combination, you can showcase different facets of your style. Our expansive collection provides the choices, and your creativity brings them to life, ensuring every look is as unique as you are.
How to get your wrist size
To determine your wrist size for a bangle & bracelet, you'll first need to bring your thumb and little finger together in the palm of your hand. Next, please measure the circumference of that hand at its widest point using tape or a string. Once you have your measurement, whether in inches or millimetres, compare it to the measurements found on the sizing section of each product we sell online.
How to order your dream bangles & bracelets
We've made ordering the perfect bangle and bracelet as easy as possible. First, select the beautiful style that catches your eye or suits your mood. You'll then have the option to choose your currency, so you know the exact cost of the jewellery we sell. From there, you'll be presented with a few customisation options.
Size — Our range of sizes includes extra small, small, medium, large and extra large. Please measure your wrist size and consult our size chart to determine your perfect size before placing your order.
Colour — Depending on the bangle, your colour options could include platinum, white gold, yellow gold or rose gold.
Material — You can choose your preferred material for some of our bangles. For example, when purchasing our decadent Rainbow Bangle, you can choose between Platinum 900, 9 Carat Gold or 18 Carat Gold.
Insert — Some of our bangles & bracelets come with a gemstone insert of your choosing, such as the addition of a beautiful sapphire or dazzling ruby.
Please note that the customisation options will vary based on your selected jewellery. Once you've made your selections, select add to cart. You can then click on your cart icon and proceed to checkout when you're ready. It's that simple!
Enjoy our easy shipping options and payment methods
At 
Sovereign Stones
, we want your shopping experience to be as luxurious as our bangles & bracelets. That's why we're happy to offer a guarantee of five-day fulfilment and complimentary shipping. For your convenience, we also accept a variety of payment methods. This includes Visa, Mastercard, American Express and direct bank transfers.
Experience the beauty of Sovereign Stones jewellery
Explore our
collection
of opulent bangles & bracelets that add a touch of elegance and refinement to any ensemble you adorn. You'll love our versatile jewellery made from ethically-sourced Sri Lankan gemstones. If you'd like to 
learn more about us
 or have any questions about how we source our materials, please don't hesitate to call 1800 077 866, email 
[email protected]
 or fill out our 
online form
.
Sovereign Stones' bangles design also features our interchangeable clip design, allowing the wearer to swap out their gemstone row depending on their outfit and mood. This innovative bangle design offers much greater potential for customisation, and removes the limitations of usual jewellery when it comes to coordinating your outfit. 
Our bangle design is tailored towards the contemporary woman, with all her style and grace. Our beautiful ethically-sourced Sri Lankan precious stones are handpicked for quality, and chosen for their inherent elegance. Our bangles come in a wide range of styles and sizes to suit your particular wants and needs.
With our Journey Collection, you have the choice between Your Grace and The Three Graces.
Your Grace offers you a single pair of exquisite earrings made from the finest precious metals and gemstones of your choosing. For the precious stones, you have a choice between sapphires, rubies, or tsavorites; all sourced from the heart of the precious stone world – Sri Lanka. Of course, if you want to change the stone later on, you have that option by acquiring an additional gemstone row to allow greater customisability.
The Three Graces gives you your choice of metal along with all three precious stone choices – sapphire, ruby, and tsavorite. This immediately gives you access to the full range of customisation, ensuring you can always coordinate your outfit properly with your earrings.
When it comes to your piece's precious metal, you can choose between:
Solid Silver

Solid Platinum

18K Yellow, White, or Rose Gold
Ethically Sourced From Master Artisans
Sovereign Stones is dedicated to providing ethically sourced precious metals and precious stones from the most reliable suppliers. It's important to us that our customers feel peace of mind when acquiring our pieces, and we have stringent policies and procedures in place to safeguard against unethical practices. We trace all of our supplies back to their places of origin, and work closely with local suppliers to ensure ethical sourcing and quality of materials. 
Sri Lanka, which was formerly known as Ceylon, is still an important source of high-quality gems. We have worked with Sri Lankan master artisans with decades of lapidary experience to acquire all of our precious stones responsibly.
Sri Lankan gemstone cutters are some of the world's most experienced, combining hundreds of years of expertise with 21st-century technology. Sri Lankan gem cutters are recognized for producing the greatest face-up color while maintaining carat weight.
Sri Lankan gemstones are found in alluvial deposits across the island, which are extracted using a mix of traditional and modern methods. In several situations, Sri Lankan precious stones have unique patterns that may be used to identify a stone mined in Sri Lanka.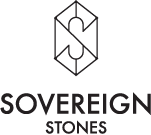 Join the Sovereign Stones Family
for exclusive previews